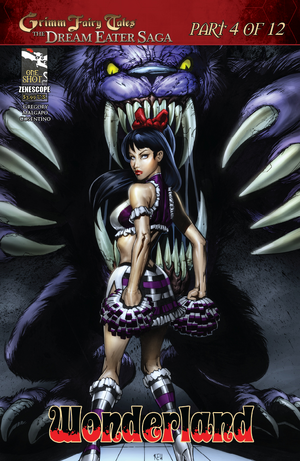 Wonderland One-Shot
Publication Details
Story Arc Title:
The Dream Eater Saga
Release Date:
June 29, 2011
Released Price:
$3.99
Digital Release Date:
January 11, 2012
Story Arc Issue #:
4
Story Arc Volume #:
1
Wonderland One-Shot is issue #4 in The Dream Eater Saga crossover event.
Summary
Once upon a time, a young woman named Calie escaped a nightmarish realm called Wonderland. But little did she realize that the nightmare wasn't over. Something is back and coming for Calie's teenage daughter, Violet. And Calie will learn that escaping from Wonderland may only have been the beginning…Part four of the event that will change the Grimm Fairy Tales Universe forever is here.
Person, Place, or Thing
Characters
Mentioned But Not Seen
Lina (The Cheshire's Friend)
Ad blocker interference detected!
Wikia is a free-to-use site that makes money from advertising. We have a modified experience for viewers using ad blockers

Wikia is not accessible if you've made further modifications. Remove the custom ad blocker rule(s) and the page will load as expected.