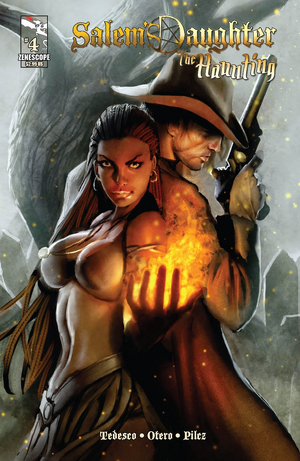 The Haunting: Part 4
Publication Details
Series Title:
Salem's Daughter
Story Arc Title:
The Haunting
Release Date:
January 4, 2012
Issue #:
9
Series Volume #:
2
Story Arc Issue #:
4
Story Arc Volume #:
1
The Haunting: Part 4 is issue #4 in Salem's Daughter: The Haunting. It is also the fourth story in the third story arc.
Summary
As Anna falls mysteriously ill, Braden must search out help in the form of a voodoo priestess who might have power of her own to combat the evil tormenting the town.
Person, Place, or Thing
Characters
Edit
Locations
Edit
Ad blocker interference detected!
Wikia is a free-to-use site that makes money from advertising. We have a modified experience for viewers using ad blockers

Wikia is not accessible if you've made further modifications. Remove the custom ad blocker rule(s) and the page will load as expected.