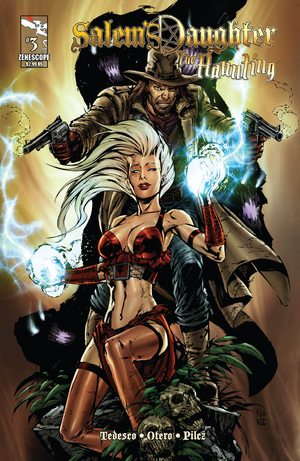 The Haunting: Part 3
Publication Details
Series Title:
Salem's Daughter
Story Arc Title:
The Haunting
Release Date:
November 9, 2011
Digital Release Date:
January 11, 2012
Issue #:
8
Series Volume #:
2
Story Arc Issue #:
3
Story Arc Volume #:
1
The Haunting: Part 3 is issue #3 in Salem's Daughter: The Haunting. It is also the third story in the third story arc.
Summary
Anna and Braden search for answers to the ongoing evil that has infected the town. A disturbing vision leads Anna to believe there is someone with a connection to the haunting among them... but who? Meanwhile Braden finds his hands full as he must go head to head against an unexpected enemy.
Person, Place, or Thing
Characters
Edit
Locations
Edit
Ad blocker interference detected!
Wikia is a free-to-use site that makes money from advertising. We have a modified experience for viewers using ad blockers

Wikia is not accessible if you've made further modifications. Remove the custom ad blocker rule(s) and the page will load as expected.