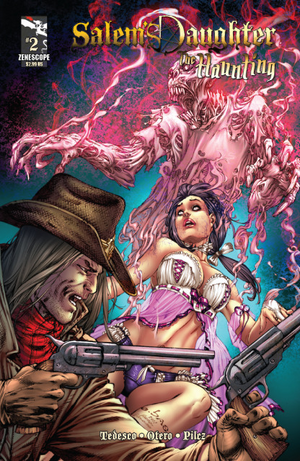 The Haunting: Part 2
Publication Details
Series Title:
Salem's Daughter
Story Arc Title:
The Haunting
Release Date:
October 5, 2011
Digital Release Date:
December 7, 2011
Issue #:
8
Series Volume #:
2
Story Arc Issue #:
2
Story Arc Volume #:
1
The Haunting: Part 2 is issue #8 in Salem's Daughter. It is also the second story in the third story arc.
Summary
As Anna and Braden delve into the mysterious possessions, an exorcism of a young teen is a priority. But something goes awry and Anna knows that this spirit is more powerful than she could have imagined.
Person, Place, or Thing
Characters
Edit
Locations
Edit
Ad blocker interference detected!
Wikia is a free-to-use site that makes money from advertising. We have a modified experience for viewers using ad blockers

Wikia is not accessible if you've made further modifications. Remove the custom ad blocker rule(s) and the page will load as expected.