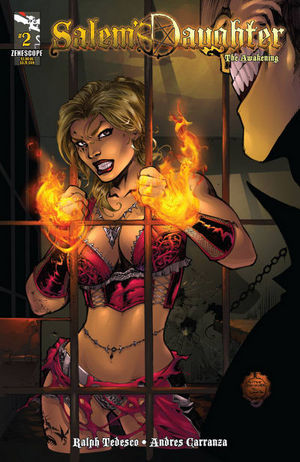 The Awakening: Part 2
Publication Details
Series Title:
Salem's Daughter
Story Arc Title:
The Awakening
Release Date:
October 21, 2009
Digital Release Date:
April 13, 2011
Story Arc Issue #:
2
Pages:
23
The Awakening: Part 2 is issue #2 of Salem's Daughter. It is also the second issue in the prequel story arc, The Awakening.
Summary
Trapped behind bars for an accidental murder she didn't mean to commit, Anna Williams has been accused of witchcraft. And in Salem Massachussetts the price for being a witch is Death. But there is hope. Braden Cole has come to the town of Salem to find the man...Or monster...He has been hunting...Darius. And Braden soon learns that Darius has plans for Anna that are far worse than burning at the stake.
Person, Place, or Thing
Characters
Edit
Locations
Edit
Ad blocker interference detected!
Wikia is a free-to-use site that makes money from advertising. We have a modified experience for viewers using ad blockers

Wikia is not accessible if you've made further modifications. Remove the custom ad blocker rule(s) and the page will load as expected.