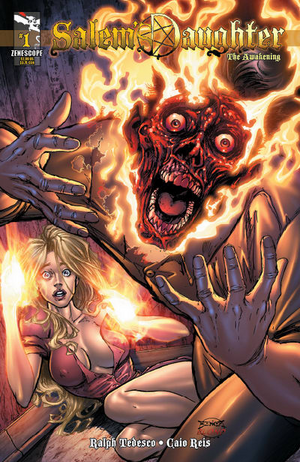 The Awakening: Part 1
Publication Details
Series Title:
Salem's Daughter
Story Arc Title:
The Awakening
Release Date:
June 17, 2009
Issue #:
1
Series Volume #:
1
Story Arc Issue #:
1
The Awakening: Part 1 is issue #1 of Salem's Daughter . It is also the first issue in the prequel story arc, The Awakening.
Summary
In 1892 Massachusetts a gorgeous young woman named Anna Williams is about to fully realize the immense powers she has repressed for so many years. Now as Anna comes of age and her gift no longer able to be hidden, an immensely evil and mysterious being named Darius is on his way to recruit her. Meanwhile, Braden Cole, a hardened gunslinger with a sordid past, is on the tail of the elusive Darius as he looks to avenge the death of his family.
Person, Place, or Thing
Characters
Edit
Locations
Edit
Ad blocker interference detected!
Wikia is a free-to-use site that makes money from advertising. We have a modified experience for viewers using ad blockers

Wikia is not accessible if you've made further modifications. Remove the custom ad blocker rule(s) and the page will load as expected.