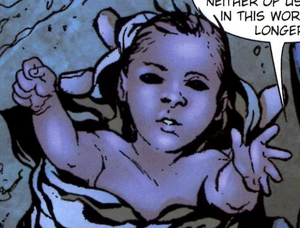 David and the Succubus' Son
Additional Information
Number of Issues:
1
David and the Succubus' Son is the son of David by the Succubus who tricked him into killing his wife, Marcie.
Bio
He is most likely dead as David told Anna and Braden he planned to take him to the lake and implied he planned to try and drown them both.
In the Comics
His birth was the reason the Succubus seduced David into killing his wife. David's blood had to be turned into that of a killer before it would work to have him.
Quotes
He was too young to talk.
Gallery