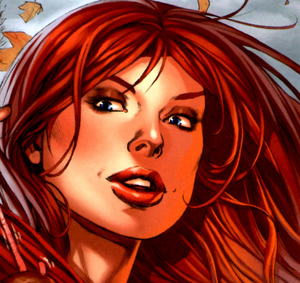 Belinda
Personal Info
Full Name:
Belinda
Nickname:
Rose Red, Snow Queen
Vital Statistics
Gender:
Female
Hair Color:
Red
Eye Color:
Green
Belinda is Sela Mathers' former arch nemesis.
Bio
She began working for Malec and Dark Horde after the death of her husband and disappearance of her son. Her son was the result of her marriage to Prince Victor. Victor was killed by the Dark One when he tried to protect her and her father-in-law handed her son over to the Dark One as he had promised. She was behind the deaths of many and the turning of many more to the Dark Horde. The Innocent gave her a change of heart when she told Belinda that her son was still alive, rather than dead as she had believed all these years.
It wasn't an easy switch for Belinda to make. In Ever After Belinda sacrificed herself to protect Pots from The Dream Eater so that he would have the time to do what was needed to defeat the Dream Eater. She died shortly after he restored everyone to where they were supposed to be. Before she died she extracted a promise from Sela that Sela would find her son.
She was later brought back to life by the Being for some unknown reason. After the initial battle with him, she went to where Sela's daughter, Ilys, was living and helped take care of her while Sela was unable to be around. Over that time they became close and when Ilys decided that she wanted to change her name to go with her new life, she asked Belinda what she would have named a daughter had she had one.
She now works with Sela and Shang teaching young highborns to use their powers including Ilys, who now goes by the name Skye.
In the Comics
The Dream Eater Saga
"Sela's arch nemesis, the evil Belinda has been many things over the years: a slave, a vagabond, a warrior, and even a servant to the Dark One. Most recently a witch named Baba Yaga has revealed to Belinda the lengths at which the Dark One has been manipulating her. Now Belinda is in search for answers to her own shrouded past and beware any who stand in her way."
Quotes
Gallery